Street Hockey at BFA
April 1, 2011
Winter Run 2011
February 4, 2011
On Friday, February 4, to Sunday February 6 Bible Fellowship Assembly and the Open End Youth Centre sponsored Winter Run 2011.
Christmas Banquet 2010
December 15, 2010
Family and Friends met together to celebrate the birth of Jesus with a meal and time of fellowship!
Great Whale Mission Trip
December 6, 2010
Last July 2010 S.P.P and Grace youth joined our BFA Grid youth in support the 2nd annual Great Whale Mission Outreach.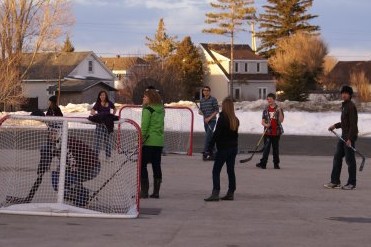 Street Hockey at BFA
April 1, 2011
About 25 youth and leaders attended the April Fools Ball Hockey Event at B.F.A. This was a joint event between B.F.A. and Grace Bible Chapel. The weather was perfect for the event with a parking lot of free from snow and the temperatures above zero.

Following the game, everyone gathered inside the chapel to sing worship music and listen to a devotion based on 2 Corinthians 5:16-6;2 titled "What does it mean to be an ambassador for Christ".

Following the devotion, everyone went back to the Fellowship Hall for poutine and pop! It was a fun and eventful evening!