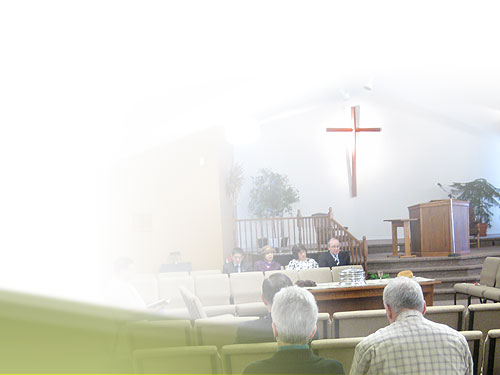 What to Expect
During our Sunday morning Services, we begin the morning at 9:30 am with a heartfelt worship time as believers gather together to remember the Lord Jesus in sharing at the communion service or "Breaking of Bread." The offering bag is passed only in this meeting. (there is also a offering box located in the foyer for those who wish to donate at other times)

Following this meeting, we enjoy a brief time of informal fellowship as we enjoy coffee and snacks in the fellowship hall.

Our next meeting, the "Family Bible Hour," begins at 11 am. There we meet in the sanctuary where we enjoy a variety of worship music; from the classic great hymns of the faith, to the more contemporary new worship music. A passage from the Bible will be examined during this meeting with the intent that each should develop in their understanding of its real meaning and importance.
On the last Sunday of each month is our "Combined Communion Service". (this meeting is once per month) This service seeks to combine the Breaking of Bread, with the Family Bible Hour, and begins at 10:30 am and lasts until shortly after 12 noon. Children are welcomed, and generally sit with respective families for the first portion of the service and when the adult teaching begins, children are encouraged to go to their age appropriate Sunday school classes. (All teachers are approved and screened to ensure all the children's safety.)
A bring and Share Luncheon is held every third Sunday of the month, where we enjoy a meal together and have fellowship. Fellowship occurs also during the Bible studies. These are held throughout the city, at the BFA church site, and on various nights with various topics under consideration. Please do try to connect with one of these studies. Currently there is a Tuesday am Ladies study at 9:30 am, a Tuesday night study at 6:30 pm (while Kidz Klub is in progress), three Wed. Bible Studies (two at the BFA site) and one at homes. Prayer is encouraged among all the members through a prayer chain, prayer at all the Bible Studies, a Monday night prayer Meeting, as well as a Monthly Men's Sat. Prayer Breakfasts.