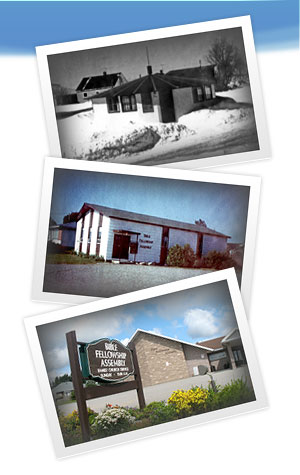 History
Bible Fellowship Assembly started in the home of Chester and Marion Donaldson in 1963 at 90 Legion Drive, in South Porcupine. Each came with a desire to simply meet with the "Lord Jesus", remember the Lord in the breaking of bread, obey his word, fellowship together and pray. Some of the original members also included Len & Aune Bell.

The "Round" chapel building was erected on 228 Huot St in South Porcupine and meetings continued until 1973. In 1974 a new larger building was constructed that included a full basement; the bulk of the labour coming from Chester Donaldson. Bible Fellowship Assembly continued to see growth as new families were added during the 1980s. During the late 1980's the growth of the church was now too great for the seating and parking. A series of meetings were initiated by the elders to decide how to proceed.

One of the important decisions reached at this time was the decision that the new larger building needed to be fully wheel chair accessible and with all areas on one level. Within two years a design for the new building was completed and land was purchased. In 1990 the sod turned at new location at 207 Lawrence, Porcupine, and a new building projected was initiated. The old building was sold to Timmins Trinity Christian School in 1991, and for about six months, meetings of BFA were held in a local recreation hall. During construction, Chester Donaldson organized much of the labour, with Terry Budd and Phil Donaldson providing excellent leadership and engineer skills. Whole families were often involved at the construction site. Some of those families involved with swinging hammers, installing drywall, roofing, painting and clean up during building construction were: Rod Baker's, Len Bells, Ted Bendell's, Terry Budd's, Yves Blouin's, Stan Campsall's, Chester Donaldson's, Phil Donaldson's, Rich Fennel's, Dave Hook's, Dave Jenkinson's, Steve Osawa's, Tom Morrish's, John Miller's, Gord Trimble's, and Don Wyatt's. Many others came from miles around to assist in the construction as well.¨The first meetings in the new Bible Fellowship Assembly building were held in February of 1991, with the final completion of the sanctuary and full meetings held there in 1993.

From 1993-2000 the Sunday School continued to be large with Christmas musical pageants sometimes involving 50 or more students.

Over the years, music has played an important part of our history, and continues to this day with Music Nights still happening three or four times. This is usually a special evening held on Sunday night with various believers sharing in vocal, instrumentals and group music ministry. Vickie Hook organizes music leadership during the Family Bible Hour, with six excellent music teams providing variety of worship styles for the praise time.

Over the years our kids outreach clubs varied as the needs changed. In the early 80's boys clubs was led by Rod Baker, Yves Blouin and Dave Jenkinson and was called Frontier Boys. The girls club was organized by Linda Baker, Geeta Blouin, Georgia Budd, and Aune Bell, called "Club M & M" for Martha and Mary. During the next few years the girls clubs program started as "Pioneer Clubs". For several years, Pioneer clubs program was held for all children at the Chapel. This year we continue to have a new mixed group Kidz club that is now attracting new children eager to learn more about the Bible.

Over the years, BFA Bible teaching is usually practical and consecutive. It was decided long ago that our deacons and elders would do the bulk of the teaching and preaching. Most of the books of the Bible have been preached on. In 2007, we did a series on the Gospel of John, and Philippians, while during 2009 we began studying Colossians. In 2010 we examined the book of Acts, while in 2011 we have completed Romans, the Fruit of the Spirit (Gal. 5:22,23) and the Letters of John. We look back at the past and praise God, and we look forward in hope towards all the goods things being accomplished in 2012.