Winter Run 2010
February 12, 2010
Youth Conference Held at BFA Feb. 12-14, 2010
BFA Annual Christmas Banquet Arrives!
December 16, 2009
Over 70 Enjoy Christmas Banquet!
Great Whale Youth Missions Trip!
July 19, 2009
Youth Return from Mission Trip After a fourteen hour journey by air and road, youth from The Open End Youth Centre finally arrived back from a ten day mission trip to Kuujjuaraapik, QC. It was a trip filled with many personal surprises....
"From Addiction to Adoption"
June 19, 2009
This past Friday, June 19th Bible Fellowship Assembly and The Open End Youth Centre hosted an evening of music and drama.
Busy Weekend!
June 14, 2009
"It seems that our meetings are usually very quiet, or just everything happens all at once!" This was one BFA member's sentiment as they recounted the activities of the weekend of June 13/14, 2009.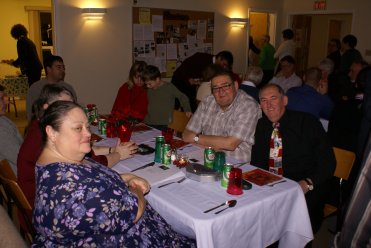 BFA Annual Christmas Banquet Arrives!
December 16, 2009
Approximately 70 were present to enjoy a wonderful time of fellowship, food and praise as we gathered at the annual Christmas Banquet. The time began with a wonderful carol sing with Phil at the piano and Shannon on flute. This was followed by a sumptuous meal catered by Toffanello's. After supper, Wade gave an excellent word as he shared the "True Meaning of Christmas". Thanks to all those that worked behind the scenes to make this a truly memorable evening!