Easter Weekend 2013
March 29, 2013
"He is alive" and for those at BFA, we enjoyed His presence during this Easter Weekend.
Winter Run 2013 Youth Retreat
February 8, 2013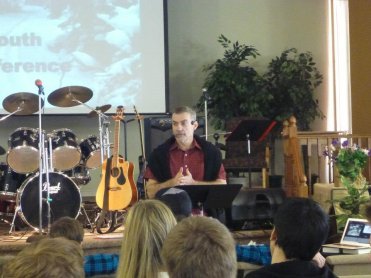 Winter Run 2013 Youth Retreat
February 8, 2013
On Feb. 8-10 Bible Fellowship Assembly and the Open End Youth Centre(along with several other area churches) welcomed seventy plus youth for Winter Run 2013. This year, Ron Page was the guest speaker. During this retreat, Ron explored where preoccupations, habits and fears come from; what you can be doing to live a freer, fuller life now. He drew on stories from the Bible, from his life and the lives of the hundreds of people.
Ron, a 30 year veteran with the Navigators of Canada has operated a private counseling practice for 22 years. Along with Ron's challenges, worship was enhanced by Shoeless. Breakout session were a time when each could interact with the topics and challenges. Icebreakers were a blast with all the participants having lots of laughs. On Saturday afternoon, the Winter Run classic street hockey tournament was held under beautiful blue skies and crisp cold air. What a nice trophy too! The meals and snacks were produced by a great team from BFA, and following supper, participants took in the special speakers (Nick and Shelby) and then set back to enjoy the best Talent Night ever! Sunday began with the Breaking of Bread, a fantastic worship time and a final challenge from Ron. Everyone stayed following for a wonderful lunch. Thanks again for all that attended, for Wally and his excellent team for such a great weekend!