Less Sound heard in Fellowship Hall
April 4, 2011
Winter Run 2011
February 4, 2011
On Friday, February 4, to Sunday February 6 Bible Fellowship Assembly and the Open End Youth Centre sponsored Winter Run 2011.
Christmas Banquet 2010
December 15, 2010
Family and Friends met together to celebrate the birth of Jesus with a meal and time of fellowship!
Great Whale Mission Trip
December 6, 2010
Last July 2010 S.P.P and Grace youth joined our BFA Grid youth in support the 2nd annual Great Whale Mission Outreach.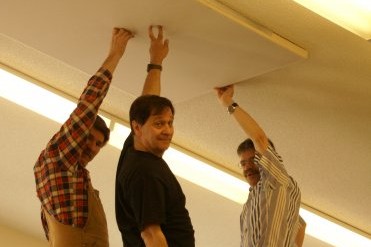 Less Sound heard in Fellowship Hall
April 4, 2011
On Saturday, April 2nd, 2011 a band of brothers met at BFA to install acoustic tiles to the ceiling. Under the effective leadership of Jim Melnik the installation of these tiles was explained and soon new sound proofing was being attached to the ceiling. One team of Wally G. and Jim set the pace for us by working at the higher portions of the ceiling with the 4x4 sheets. A second team of David H, Dave J, Joe C, Cary G, Len B and Yves B followed with installing the larger 4x8 sheets. Thank you to Chester D. who brought in the yummy donuts for coffee break! We concluded the project in the early afternoon with Chester offering a prayer of thanksgiving to God for our fun and safe time.