Easter Weekend 2013
March 29, 2013
"He is alive" and for those at BFA, we enjoyed His presence during this Easter Weekend.
Christmas Eve Candle Light Service 2012- 'At Bethlehem'
December 24, 2012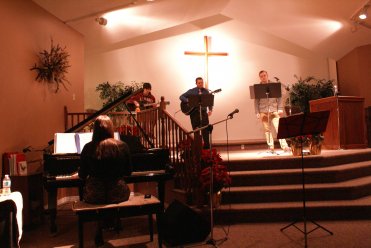 Christmas Eve Candle Light Service 2012- 'At Bethlehem'
December 24, 2012
On December 24, 2012, Bible Fellowship Assembly was humming with much anticipation as over 120 arrived to enjoy the annual Christmas Eve Candle Light Service. This years service (arranged and directed by D. Jenkinson) was entitled 'At Bethlehem'. It was noted that Chester Donaldson was present, and the entire audience gave him a hearty welcome back. Then Rod Baker opened the meeting in prayer. We then moved rather swiftly into a video presentation entitled 'We are here'. Doug Engle, fresh from Kansas, treated us to a piano medley and 'Angels we have heard on High'. Then, Ted Bendell with his distinguished costume and low voice stepped forth as the prophet Isaiah. He declared the word of the Lord from selected portions from Isaiah's prophecies. The congregation now enjoyed several moments of musical participation as the first congregational song was a hymn taken directly from Isaiah called 'Lo, How a Rose E'er Blooming'. This as followed by Shannon and Rod Baker and Alison Baker-Jamieson blessing us with a violin, clarinet and flute trio; 'Star Carol'. Mary's role was next skilfully presented by Peg Donaldson. Her articulation and gentle spirit seemed to embody the character of Mary so well. Stan Campsall treated us with 'Mary did you know?' and with his clear tenor voice asked the questions we all would have asked. Judy Mathew stepped forward to represent Elizabeth, and in a powerful way demonstrated the wonder of God's miracle power. Joseph in Biblical costume (Phil Donaldson) stepped up to the mike and shared with authenticity, his frustration and wonder at the incarnation and the miraculous birth. This was followed by Hannah McNulty singing 'Emmanuel' and accompanied by parents Becky and Dave on violin and tin-flute. Mrs. Donaldson shared an original poem of hers entitled 'Worship'. Then the 'Four Magi' came forward. Jody and Sherry Hodgins and children spoke up as they described the amazement of following a star. Joel and Timmy Black presented 'We have a Saviour', a wonderful combination of guitar and vocal. Following the congregational song 'O sing a song of Bethlehem' the Apostle John as Wade Mathew stepped forward to tell with care his story. Hannah McNulty, along with Trevor, and Timmy and Joel Black blessed us with the sweet: 'You are here'. This song reminded everyone of the reason for Christmas. We concluded the musical section with the entire church standing and singing with gusto 'A Thousand Candles'. Cary Geno conduced our evening with a reminder of why we meet together for this time, and finished off with a closing prayer. Everyone stayed behind to meet with one another, enjoy a time of Christian greeting, and to take more photos. What a blessed way to to start our Christmas celebration!