Easter Weekend 2013
March 29, 2013
"He is alive" and for those at BFA, we enjoyed His presence during this Easter Weekend.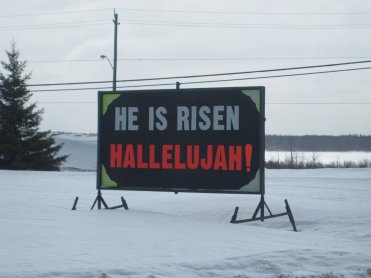 Easter Weekend 2013
March 29, 2013
On Friday, March 29, 2013 BFA began its celebration of Easter with our annual Good Friday Service of Reflection and Praise. Thanks to the almost thirty different believers participated in this service. The seven selected readings were described as having been chosen for the theme of "At the Cross". Each of the readings were from the New King James Bible, and were selected to bring the entire group into the entire story of the Passion and the Cross. Ted opened in prayer, and then we began with our first congregational hymn "In Christ Alone". Assisted by Trevor on rhythm guitar, Timmy on lead guitar, and Hannah on piano, the congregation was led into a time of worship. Wally and Sally delivered "Singing to the Cross" on the power of music in the life of Jesus. Then Becky and Sally treated us with violin duet and "The Old Rugged Cross" Joe and Lil brought to us the "Running to the Cross" and "Sorrowing to the Cross"; while Fern sang and brought us to the "Power of the Cross" Two traditional congregational hymns were included in the presentation. "Man of Sorrows" and "At the Cross, at the Cross" were well received. The voices of the congregation swelled through much of the service. Jody and Sherry and family brought to us the "Joy at the Cross", while Marion sweetly sang "The Christ of the Cross". Phil and Peggy shared the "Faith at the Cross" and Wade and Judy shared readings on "Life at the Cross". Stan encouraged us with "Heaven now is in view", and "I've started up for Heaven." We concluded with Wally and family looking at "The Future at the Cross" and the congregation closed with "At the Cross I bow my knee" . Cary concluded the time with prayer. All seemed touched with the awesome worship during this time.

On Sunday morning the congregation met for breakfast at eight. We enjoyed a wonderful breakfast and fellowship together. We met for the Breaking of Bread. We began this service with "My Redeemer lives" and "He's Alive". Following this time, we met again at 11 am for a celebration of the resurrection. Led by Joel, Trevor, Timmy, James and Hannah we enjoyed a wonderful time of contemporary praise. This was followed by Ted bringing us to the reasonableness of the Resurrection. Ted pointed out many of the inconsistencies for those who argue that the Resurrection was a hoax. "He is alive" and for those at BFA, we enjoyed His presence during this Easter Weekend.