Great Whale Mission Trip
December 6, 2010
Last July 2010 S.P.P and Grace youth joined our BFA Grid youth in support the 2nd annual Great Whale Mission Outreach.
Chester & Marion Tribute Night
April 24, 2010
Winter Run 2010
February 12, 2010
Youth Conference Held at BFA Feb. 12-14, 2010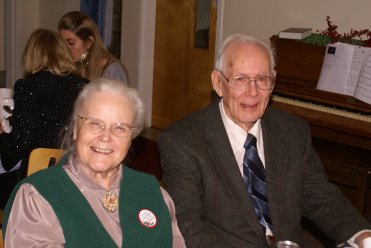 Chester & Marion Tribute Night
April 24, 2010
Chester & Marion Donaldson Tribute Night

On Saturday, a group of around eighty gathered in the main auditorium to pay special tribute to the many years of faithful service by Chester and Marion in the ministry of Harmony House. Friends came from Kirkland Lake, Iroquois Falls, Timmins and area, and of course South Porcupine to pay special honour to this couple. Organized and emceed by Jim M. the evening began with prayer and continued with a number giving speeches. Mr. & Mrs. D. shared the history and philosophy of this ministry, while Yves took this occasion to them a present a special plaque. A short video slide show chronicled their Harmony House years, while Andy brought video greetings. Anna and Becky also gave particular thanks to the "D's". There was an open-mike time, when there were speeches, thanks, and not a few tears as we remembered with gratitude the impact on our lives of these dear friends. It was very apparent that this couple has been used greatly for the Lord, and it was so nice to be able to share in the praises offered. We all retreated to the fellowship hall for snacks and a wonderful time of Christian sharing following.