Winter Run 2010
February 12, 2010
Youth Conference Held at BFA Feb. 12-14, 2010
Great Whale Youth Missions Trip!
July 19, 2009
Youth Return from Mission Trip After a fourteen hour journey by air and road, youth from The Open End Youth Centre finally arrived back from a ten day mission trip to Kuujjuaraapik, QC. It was a trip filled with many personal surprises....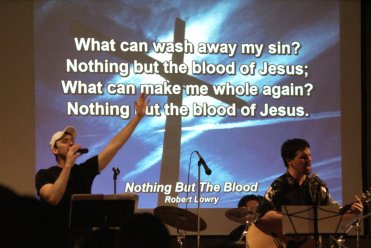 Winter Run 2010
February 12, 2010
On February 12-14, area youth from the Grid saw the culmination of months of planning, prayers and coordination come together as Winter Run was held at Bible Fellowship Assembly. This conference was coordinated by Joel Black and assisted by Beatrice Blouin and others from the Grid. Attended by approximately fifty-five youth from various churches that included: Bible Fellowship Assembly, First Baptist Church, Grace Bible Chapel, South Porcupine Pentecostal, Timmins Gospel Hall, and Timmins Pentecostal Church to mention only a few. Youth met Friday night and following registration and ice-breaker games, the Band Shoeless led the group in a lively and spirited time of worship. This band had an excellent blend of traditional and contemporary hymns set to upbeat music style. Never overbearing, but always tightly united, Shoeless led conference participants into numerous times of reflection on the lyrics and times of worship. One youth commented that "The music from Shoeless was really good, and everyone had a great time in worship!" Andrew Porter, from Kirkland Lake gave a spirited challenge from Daniel. He challenged youth to learn their name as Christians, and to not be afraid of being distinctive for Christ. Following the challenges, the groups divided into break out sessions, led by Steve Melnik and Sharon Lively. Youth were billeted in area homes Friday night, to return to the church building early Saturday. During the following day, Andrew completed his challenge to the youth, while hockey, fruit basket game and numerous times of sharing took place between each session. What is fruit basket? This was how it was described: There are four fruits that you can be called. Each participant is named one of the fruits at the beginning, and a person in the middle of the circle calls out a fruit. If this person yells bananas, all the people named bananas have to get up and find a new seat, and the person in the middle has to try and find one too. Whoever doesn't find a seat quick enough, gets stuck in the middle and now is the one to call out a fruit. This conference included all meals as well. Said one participant "The food was amazing! Everyone I talked to loved it. It was exciting to see the youth getting involved with the hectic smoothie making too!" During the balance of the day, other topics for discussion and challenge included: Trusting in God, Decision making, and how to Separate ourselves from the world's ways. Challenges were also given by Sean Lee (Timmins). A number of youth stayed over for Sunday worship to witness the baptism of Andrew Lucking. Andrew gave a clear and concise account of how he surrendered his heart to Jesus. Andrew was baptized by Joe Cimprich and Wally Bidwell. Following the morning challenge, youth joined with other members of the church to partake in a final fellowship meal together. All in all, everyone was pleased with the results of Winter Run 2010.