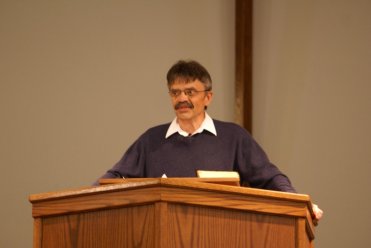 Busy Weekend!
June 14, 2009
For the men, activities started before 8 am on Saturday June 13, as seven of the BFA family was busy cooking and serving breakfast for the men of the "Good Samaritan Inn". From all accounts, the BFA men's cooking gift of breakfast seemed much appreciated. This is now the second time in 2009 that the Men's Prayer Breakfast has launched out and served breakfast for others at this location. Kudos to those who put shoe leather to their faith!

On Sunday, we enjoyed a stimulating message from Joe Cimprich on the topic of Suffering and the Christian. Following the eleven o'clock message, our chapel held a "Bring and Share Lunch". These times of sharing around a table with the family of God are wonderful ways to enjoy the "fellowship" of Bible Fellowship Assembly.
Following the lunch, we held our annual meeting. Our Elders highlighted the new BFA website, as well as kept us posted on recent modifications to the BFA statement of faith and practice. While all this was happening, Amanda Ferron and the youth were busy phoning and registering new students to the Vacation Bible School (held in early July) as well as the Outward Bound Basket Ball Camp.