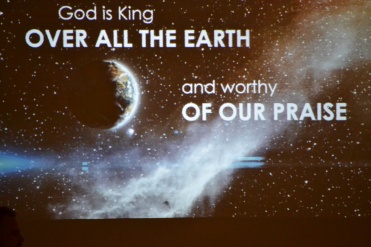 One Voice Timmins at BFA
June 3, 2017 at 6:30 PM
Last fall several from BFA were among various evangelical Christians in Timmins who organized a community worship and prayer night for all area Christians. The theme of this time was "that together we may with one voice glorify the God and Father of our Lord Jesus Christ." (Rom. 15:6) On Saturday past, the second of four such times was held; this one at BFA.
We were grateful for those from BFA who cared for the over ten children who came to this event. Promptly at 6:30 pm, Trevor M opened the meeting with prayer and shared "Why do we worship?" A short video was presented with the theme of "Our Great God". Then we were blessed with the BFA Praise Team, (TM, HM, RR, AR, BR BJ) who led the congregation (approx 100) with "Our God, Open up the Heavens, Lay me Dow, God is able, Christ is enough and Forever Reign."
The One Voice Team was grateful to KFM (105.5 our local Christian station) for their active support which included some live feed, the KFM lights and car, and the drawing of a door prize. We were happy to announce that Z. T was the winner. Bruce R followed this time with prayer, and then Mike B shared more scriptures.
We broke for a time of collective prayer, where the congregation gathered into small groups to pray for the city of Timmins. Following, Dave J shared additional scriptures from Phil 2 on humility. The Praise Team then followed with "Lord I Need You, One Thing Remains, Great Are You Lord, and Broken Vessels." Marc D presented a short devotional gospel presentation which spoke to our hearts. Then the Praise Team concluded with "It is well- Bethel version" Marc D concluded with the evening with prayer. Thanks again for all who worked behind the scenes to make this such a wonderful night of praise and prayer!