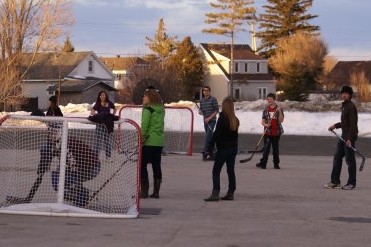 Street Hockey at BFA
April 1, 2011
About 25 youth and leaders attended the April Fools Ball Hockey Event at B.F.A. This was a joint event between B.F.A. and Grace Bible Chapel. The weather was perfect for the event with a parking lot of free from snow and the temperatures above zero.

Following the game, everyone gathered inside the chapel to sing worship music and listen to a devotion based on 2 Corinthians 5:16-6;2 titled "What does it mean to be an ambassador for Christ".

Following the devotion, everyone went back to the Fellowship Hall for poutine and pop! It was a fun and eventful evening!