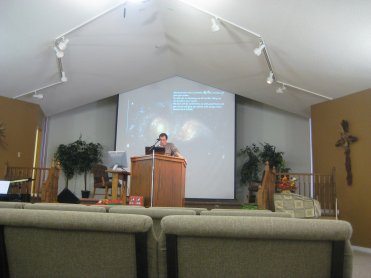 November News 2011
November 30, 2011
November 27th, marked the 17th year that B.F.A. participated in Operation Christmas Child. At the dedication ceremony held during our Family Bible hour prayers and well wishes were extended, as 31 boxes left our chapel. On behalf of this wonderful Christmas ministry, Peggy Bendell wishes to "Thank you to all who participated again this year! Peggy shared that "Each year this ministry has collected approximately 2000 shoe boxes of hope from this area. And, (according to Samaritan's Purse info) "This year Canada has committed 75,000 shoe boxes to Haiti alone. After more than a year of devastation and hopelessness in the shadow of the 7.0 magnitude earthquake, hurricanes, a cholera epidemic, and poverty, 12 year old Donalson received a shoe box filled with toys, candy, school supplies, and hygiene items. 'I praise God for the gift, ' he exclaimed. 'God changed my life by giving me feelings of joy." Each shoe box is an opportunity for a child to hear about the love of God.
Monday, November 28th saw 18 gather at the Open End Youth Centre, to participate in the joint BFA/TOEYC "Child Abuse Prevention Workshop. This refresher course reminded staff and volunteers of the importance of recognition, detection, and prevention of this area of concern. Plans and methods to reduce risk to all were discussed, as well as our responsibilities in reporting. Led by Wally, we enjoyed much helpful information compacted into this excellent workshop.
On Tuesday, November 29th, the Young Couples Bible Study held its annual Christmas Supper. Chinese food was the order of the day, along with amazing dessert, and wonderful laughs. We capped off the evening with more excellent fellowship, and showing the movie "The Encounter". While this may be the first get-together Christmas Supper for the BFA small Bible studies groups, it will undoubtedly not be the last!