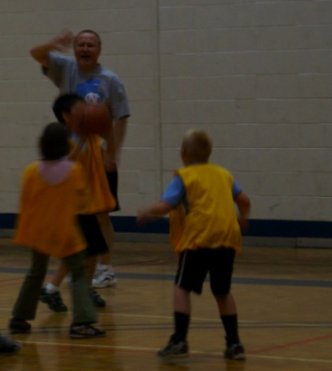 Of Basketballs and Bibles!
July 6, 2009
This past Sunday, (July 5, 2009) BFA was visited by the Short Term Mission from Leesville, Louisiana. David McConathy shared at the Family Bible Hour: "Facing the Storms of Life" from Matt 14: 22-33. David reminded us that the disciples were toiling with a "contrary wind". He pointed out that even in life's difficulties (when even the wind is against you!) the Lord is still watching and praying for you. It was "at the fourth watch" i.e. "during the darkest hour," that Jesus came to the disciples on the water. The younger student members of the team joined the Youth Class at BFA, while the remaining joined in for the morning worship.

Then, on Mon-Friday the Leesville members, BFA members and Open End Youth workers teamed up to provide an Upward Basketball Camp held at Northern College between 1-3 pm. Not only did the students learn teamwork, respect for authority and sportsmanship, but they also learned and practiced key essentials for basketball. Feet pounded the court as teams raced back and forth in spirited competition. Fouls and penalties, along with some pretty decent shooting made this practice game time a highlight of the camp. There were approximately 25 participants in this outreach activity.

In the evening at the Open End Youth Centre, BFA and Open End members and the Leesville Team worked cooperatively to provide a Vacation Bible School from 6-8 pm. This outreach combined games, treats, crafts and a good helping of God's Word as the participants learned about the Ten Commandments. There were approximately 18 students in attendance by Wednesday learning what it means to "Honour your father and mother".

BFA is grateful for the spirited ministry, enthusiasm and creativity that the Leesville Team brought to the North and more particular to the Porcupine. May God continue to bless each of their individual and collective efforts for Him! A big thanks you to all that came north, and to their support church in Louisiana who actively prayed and supported their ministry.