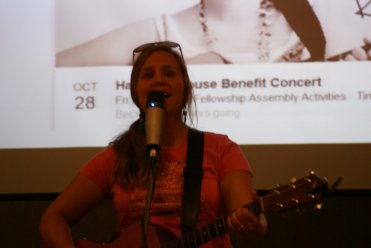 Harmony House Fall Ministries 2016
October 28, 2016 at 7:00 AM
During the month of October, Harmony House had a number of outreaches and ministry opportunities. On Oct. 15Th, Operation Christmas Child had its kick off at Harmony House. Thanks to Peggy and Ted B for their faithful ministry here, as coffee, donuts, many brochures and shoe boxes were handed out. Thanks as well to Cal, and all the gang from KFM 105.5 who operated their mobile station at Harmony House for this event. All Sat. Long the station drew people to the Mall and more particularly to HH to promote this kick off.
The next weekend, on Oct. 21st HH set up a book table at Grace Bible Chapel. Along with Becky and other volunteers, this book table and display generated good sales and excellent promotion.
The next week recording music artist, Kassie Tyers came into town for the Harmony House Benefit Concert. On Friday night, Oct 28, over 100 were in attendance from as far away as New Liskeard, Elk Lake and northern regions. The evening was one of deeply moving messages for God, as well as the joy of Christian fellowship. Thanks to Kassie and Adam for coming all this way! For over two weeks prior to the event, KFM offered free advertising while we set up a Face Book site to promote this. KFM had their promotional vehicle with its lights going all evening in BFA's parking lot. Many offered snacks and treats for a fellowship time following. This also had the effect of locating the event for those looking for our exit. The night was successful in that the message of the Gospel went out in a powerful way.