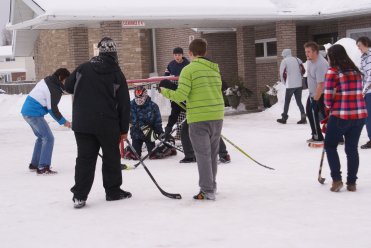 Winter Run Youth Conference 2012
February 3, 2012
The weather was mild this year with just a touch of warm rain as almost one hundred grateful and excited youth enjoyed a weekend spirited fellowship, exciting road hockey, amazing roast beef, quality times of worship and Biblical infusion as Winter Run 2012 began. Friday, February 3 students entered Bible Fellowship Assembly along with the Open End Youth Centre who again sponsored Winter this event. As students entered BFA, they were met by a friendly smile and welcome from Peg B. on the registration desk.
"Shoeless" opened off the event with spirited worship music. We appreciate the depth of worship that comes from this band. Winter Run then followed with an ice-breaker led by Brianna. Our special guest Bible teacher this year was Sean Lee who led our time into the theme of "Has your relationship with God changed the way you live your life?" The presence of the Holy Spirit was felt during his talks. Each talk was followed by breakout sessions where youth were encouraged to interact with the challenge heard.
Something new was tried this year. As photos were taken of the weekend, these were posted to Face Book link entitled "BFA special events". Thus we had a semi-live posting of the series of photos of activities as this weekend unfolded. We hope that this stimulated parents, friends and others to pray for the work of God during this time.
All outside guests to this conference were given billets, and awoke Saturday to another full day of more worship, Bible messages, breakouts and sports activities. After a busy afternoon of road hockey youth were treated to a full roast beef dinner, compliments of the kitchen fellowship team. Special speakers Saturday night included Kevin Armitage and Jessica Livingston who challenged the students to live for Christ. Saturday evening was culminated with talent night.
The final culmination of this conference was Sunday, when over sixty met at 9:30 to remember the Lord's death by breaking bread together. Following this time, Family Bible Hour worship music was again provided by Winter Run Praise Team. Jesse Fontaine shared a enthusiastic message on the Tests of life! Jesse emphasized in his sermon the need to really get real with God, and how to know for sure you are! This was one encouraging weekend! Many commented on how nice a spirit of co-operation and Godliness pervaded the weekend. Again, much thanks to hidden ministries, from working the sound board, to preparing in the food in the kitchen, to clean up and to all the wonderful billets.