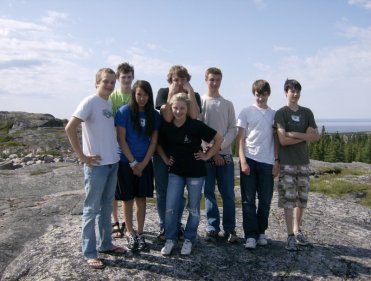 Great Whale Youth Missions Trip!
July 19, 2009
Timmins Youth Return from Mission Trip
After a fourteen hour journey on July 19th by air and road, youth from Bible Fellowship Assembly and The Open End Youth Centre finally arrived back from a ten day mission trip to Kuujjuaraapik, QC. It was a trip filled with many personal surprises and growth for the twelve youth and leaders who ventured into Canada's sub-Arctic along the coast of Hudson Bay. They learned a great deal about the Inuit people, especially the children and youth. They also learned a great deal about themselves and their faith.

"Our youth's lives have been changed", said Wally Bidwell of Bible Fellowship Assembly, one of the trip organizers. "Mission is a real opportunity for individuals to grow spiritually". "A couple of the eight youth mentioned that they think that God had sent them on this trip so that He could work on them", added Dawn Baumhour of Timmins Pentecostal, another organizer and mother of two of the youth. What impressed the youth leaders the most about this trip were the youth. To see these boys and girls connecting with the children, hugging them, showing them love, working with them one-on-one was incredible! The Inuit children loved them and took every opportunity during the day to be with them. The youth also took it upon themselves to go to the local gym to play hockey and volleyball with the Inuit teens and made some good friends. After presenting a drama to them at the gym about Christ's love, they were able to talk to some of these youth about their faith. The response was positive and very encouraging for our youth. For some of them, this was their first opportunity to speak to others openly about God. The youth who attended this mission trip have become closer and more enthusiastic about their faith. They want to stay connected and work on their faith within their youth group, "The Grid", this fall and winter ... and return to Kuujjuaraapik next year.

Other experiences for the youth and youth leaders included eating caribou, geese and freshly caught lake trout, swimming in Hudson Bay when they could still see ice floating on it in the distance, travelling up rocky terrain to a remote camp on four wheelers, firing
a rifle and experiencing how bad black flies can be in the sub-arctic!

All of team are were grateful for the prayers and support shown during the preparations and the carrying out of this short term mission trip by their home churches. They also appreciated the kindness and hospitality of their host families, David and Joanna Bouck (also full time missionaries in Kuujjuaraapik) and Alain and Minnie Girard.

The youth are planning to have a special presentation about their trip at The Open End Youth Centre on September 17th. They will show pictures, perform a drama that they presented to the Inuit youth, and talk about their experiences and how God has changed
their lives as a result of this trip.