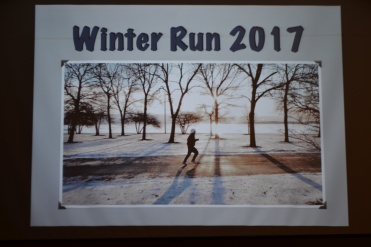 Winter Run 2017
February 10, 2017 at 6:30 PM
Winter Run 2017 was held Friday, Feb. 10 - Sun. Feb. 12 this year. Theme was "Disciples who dared Big!" and sought to challenge youth to become effective witnesses for Jesus. A total of 55 youth from 8 area churches were present. There were seven Bible sessions of which students were expected to be at 6 of these. For those who came on Friday and Sat only, they had 5 Bible sessions. Thanks to Trevor M for bring us 4 Bible sessions, on the topic of the Disciples and Jesus. His titles were Dare to Sacrifice, Dare to Know, Dare to wait, and Dare to serve. Wally G, Aaron B, and Matt R did workshops on Sanctify Jesus as Lord, A reason for Hope, and Be ready always.
Registration was thanks to the excellent work by Magan B and Sharon R. for registering and getting parents signatures, organizing both Friday and Sat am. After Fri registration, students enjoyed ice-breakers under the capable direction of Dylan C. and Hannah M. Three praise Teams celebrated with the youth this year. Team #1- Hannah M, Angie R., Ryan R., Bruce R did two sets, while Team #2.- Becky J, Joel T, Carman L, Wally G, Vickie H. Dave J, Jeff B. did 4 Sets; Team #3. Stan Campsall- Solo Team did one song at each set. The swim Program included 38 who went in the bus went to this program. Thanks as well to Judy M. and her food supervision team for the excellent care given in getting nutritious snacks and meals to the students. The Pizza came from Metro, and they did an amazing job getting quality good tasting pizzas.
During Fri night and Sat night we showed "Vanished" a newly updated (2017) Rapture film which kept the entire group in suspense. Sat night was another Talent night, with the best comedy, Variety, and music routine winning gift cards.There were a total of 8 performances of 8 individuals or teams which were evaluated by three judges Thanks to Jeff B, Joel T, and Becky J for acting as our judges...and thanks to Harmony House for gift certificates to the 3 winners.
On Sunday, students joined BFA for 9:30 communion and then enjoyed the worship and praise team as Trevor M. completed his series. The morning was concluded with a combined BFA and youth brunch. Thanks to Ted B., and to Joe C for their assistance on the BFA Sound System and Video projection and power point. Thanks as well to the homes billeted 12 students Dave & Vickie H, Joe & Joanne C, Steve & Linda O, & Bruce & Sharon R....to the 3 other homes who were waiting on stand-by. Our hope and prayer was that this conference proved to be a blessing to the students, and brought unity and focus to our entire church family. Can't wait until 2018!